"Mickey" Stubblefield died February 19, 2013, within a week before his 87th birthday (Obituary). His career in Organized Baseball is remarkable. Not only was he a talented athlete, but also the first African-American to play in the Kitty League, formally known as the Kentucky-Illinois-Tennessee League (the initials KIT led to the more commonly-used name "Kitty"). Mickey pitched in the Negro American League, recruited by the champions of black baseball, the Kansas City Monarchs. Mickey was the only man alive who broke a 50-year color barrier on a minor league team.

Wilker Harrison Thelbert Stubblefield (more commonly known as "Mickey") was born February 26, 1926 in Mayfield, Kentucky. "Wilker" was his mother Mary's maiden name, and "Harrison" was his father's first name. He was the sixth oldest of seven children. Mary (Wilker) Stubblefield died when Mickey was six, and his father Harrison Stubblefield died five years later when he was 11. Until Harrison's death, Wilker and his baby sister Ollie lived with their father on land he farmed in Paducah, Kentucky. The elder Harrison was also a highway laborer and a veteran of World War I. After the demise of both parents, Mickey and Ollie were raised by their older siblings.
In 1928, known for wearing large yellow shoes, one of the most recognized cartoon characters named Mickey Mouse came into existence. In his early teens, Stubblefield picked up the nickname "Mickey" that he went by for the rest of his life. He wore hand-me-down shoes (passed on by older players during the beginning of his baseball career) that closely resembled Mickey Mouse's unusually large shoes.
In 1937, at the age of 11, Stubblefield served as a batboy for Mayfield's all-white Kitty League. At 13, he was employed with the local Dr. Pepper Bottling Company, and pitched for the Mayfield Black Hawks, an all-black semi-pro team. He graduated from Dunbar High in Mayfield, Kentucky, and attended trade school in Paducah, Kentucky to learn the principles of becoming a chef.
Mickey enlisted in the Navy from 1944 until 1946, and received an honorable discharge. In 1947, he hooked up with an all-black barnstorming semi-pro basketball team in Omaha, Nebraska called the Omaha Rockets. The next year he joined one of the legendary Negro Leagues teams, the Kansas City Monarchs of the Negro American League. The Monarchs mostly barnstormed through the Midwest, West, and western Canada. Mickey said, "The most unusual team I played against was the House of David because they all wore long hair and beards."
During his 1948 & 49 tenure with the Monarch's, Mickey was a pitcher. He learned his curveball from the MLB Hall of fame pitcher Satchel Paige. Satchel taught him how to pitch, his stance, and how to throw a fast curveball. Mickey became known as "Little Satch" because he had almost as many pitches and deliveries as his legendary mentor. A Chico, California newspaper referred to Stubblefield as "a crowd pleaser" often referred to as 'Little Satch' because…the many different deliveries he had were characteristic of Paige himself.  Satchel Paige spoke fondly of Stubblefield's pitching talent saying, "If he was a foot taller he could use him for a double on the mound." Mickey reportedly would win 20 games in his first season.
Mickey's teammates while with the Monarchs included Negro Leagues legends Buck O'Neill and Willard Brown, Cool Papa Joe Bell, Ernie Banks, Hank Thompson, and his mentor Satchel Paige. In the Negro Leagues, Mickey played with a number of future major leaguers including Elston Howard, Hank Thompson, Gene Baker, Hilton Smith, and Connie Johnson.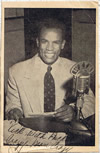 Stubblefield received raving reports from sportswriters all across the country, especially in the 42 states on the Monarch's barnstorming tour. During his baseball career, Stubblefield was a radio show host with WKTM radio station in Mayfield and famous for his slogan "Kick with Mick – Crazy Man Crazy".
In the fall of 1949, traveling through Nebraska to play a practice game between the Monarchs and the McCook Cats, Mickey's talents came to the attention of Dr. Dennis, president of the Nebraska Independent League. Dr. Dennis purchased Mickey and one of his Monarch teammates Horace Garner.
The McCook Cats were an integrated team in the Nebraska Independent League, a fast semi-pro league. Better than most hometown leagues, the Cats were known for their players who came from all over the United States. Mickey would spend the 1950 season with the Cats, posting a record of 13-6. Horace Garner would go on to play in the Sally League, and break a color barrier with Hank Aaron.
Thursday, June 26, 1952, Mickey became the first black pitcher to sign in the history of the Kitty League. The first black ever to wear a Kitty League uniform, Mickey made his debut with the Mayfield Clothiers on June 27, 1952.
"About 1,500 fans — black and white — packed War Memorial Park and overflowed into the adjacent football grandstand in right field for Stubblefield's historic Kitty League debut. They gave him a standing ovation to start the game and he struck out the first batter he faced, Paducah third baseman Russ Davis [who finished third in the league with a .353 batting average]. He struck out six batters, walked five, and scattered six hits in the complete game victory, winning 5-4".
Shortly after Mickey's historical debut in 1952, William P. Lanier wrote an article titled "The Mound Star — Pirates Farm Club Breaks 50 Year League Color Bar — Satchel Paige's Protege Wins First Game". The article states 24 year old Stubblefield, playing for the Mayfield Clothiers at the time, was approached by Frank Rickey, brother of Branch Rickey Sr., and scout Bill Burrell to play professional baseball for the Pittsburgh Pirates' farm team at Mayfield, KY. The senior Branch Rickey invented the farm system and also served as Executive Vice-President and General Manager of the Pittsburgh Pirates.
Receiving a tip from a Mayfield friend nicknamed "Dubb Duffy", Mickey joined Duffy in 1953 to play baseball for the Duluth Dukes, a minor Northern League team in Duluth, Minnesota.
Rejoining the McCook Cats in 1955, Mickey and his wife Olelia (Hartsfield) moved back to McCook to raise their family of ten children. During his life in McCook, Mickey coached little league youth baseball teams and the first women's softball teams.
In the middle 50s, Mickey came face-to-face for the last time with his mentor Satchel Paige who was traveling through Nebraska to play a practice game between the Monarchs and the McCook Cats. Olelia tells of meeting Paige along with their children, "He was so tall that I had to look up to him. He was medium built and thin, and very kind. Satchel shook mine and the children's hands, and after visiting for a short period he had to leave."
The American Negro League Baseball Association honored Mickey Stubblefield at their Legends All Star Weekend held Saturday, July 11, 2009 at the Embassy Suites Hotel in Birmingham, Alabama. Several former teammates who played with various outstanding teams from across the country celebrated the history that laid a foundation that represents us all. Their hope is to open a museum in Birmingham to honor the history of prestigious Negro League Legacy.
April 30th, 2011, Mickey was invited by Gus Eurton, Vice President of Marketing for the Atlanta Braves, to participate in the 2011 Atlanta Braves Negro League Celebration on Saturday, May 14, at Turner Field. The celebration took place during the Major League Baseball Delta Civil Rights Game weekend. Mickey was part of the Heroes pre-game tribute, autograph signing, and attended the MLB Beacon Awards Banquet at the Omni Hotel Grand Ballroom. This was an honor to those who fought on and off the field for the right of equality.
Sprinkled in with other notable former players, Mickey and his family visited with celebrities, honorees, and several key activists. Pictured with Mickey is the Braves Jim Allen, Phillies Ruben Amaro Jr., Civil rights leader John Lewis, as well as MLB outfielder and NFL safety Brian Jordan. The Braves reached out to Mickey's family to request his attendance at their 6th annual Negro League celebration held on June 10th, 2013.
The Heritage Days Committee of McCook, Nebraska Area Chamber of Commerce tried to maintain their silence regarding the dignitaries of their 2011 annual celebration, but there was a need to plan a meet and greet for the honoree Grand Marshall, Baseball great Mickey Stubblefield. The reception honoring Mr. Stubblefield was held Thursday, September 22, at the High Plains Museum in downtown McCook.
Mickey was a member of the Negro League Living Legends and an honorary lifetime member of the Negro Leagues Baseball Museum in Kansas City, MO. Known as an outstanding pitcher who helped break the racial barrier in baseball, on February 9, 2014, Mickey Stubblefield was inducted into The Nebraska Baseball Hall of Fame.
There are many books, newspaper articles, and other references about the life of Mickey Stubblefield. See the links section for a few of them.